WordPress plugin detector tools 2022
Detect theme and plugins used on wordpress site using detector tool, view source code (100% working method), Css code, Inspect element etc.
To start new Business, Website or Blog We typically selects WordPress CMS because it is easy to handle. And millions of Plugins and Themes available to increase functionality of website in one click. Make any type of website with wordpress security and lifetime free updates.
Sometimes we starts everything fresh means own selected Themes and according to need we search and installs Plugin on WordPress. Sometimes we have demo of competitors or client demands for same website at this Time if we used things already applied on that website then its very easy and fast to complete our work.
Its very hard to find and detect plugin name from wordpress website because no clue available but after read this article and all steps identify plugin and theme name of any wordpress site easily.
This guides will works on both free and premium plugins, themes so it can't escape your sight.
---
How to detect theme and plugins name of wordpress website ?
Detect theme and plugins name using wordpress plugin detector but sometime misses. Here is method for wordpress plugin and theme detector which 100% works.
Why we need to check wordpress plugins of other sites ?
Here is the some reasons to check wordpress plugins and themes of competitor sites and how this is helpful to make easy our work :
Same functionality on our wordpress website
Looks, Design, Code
If Competitor is already success then without searching new we direct uses same thing
Client Demands by giving link, Demo
Know Hosting Company
Suppose our competitor used anything new in their website which is useful and people likes it. If we directs search on google then lots of ways will come and you have to try each one manually to look like your competitor. But if you Find which plugin or theme they are using in their wordpress files then you can directly apply it without wasting much time.
It also beneficial for you because they already tested it and How this is giving good benefit for your wordpress website
---
How to detect WordPress Site Plugin and Theme Name
Here we shared each and every method who need every beginners as well as experts to check WordPress installed sites plugin & theme name free of Cost and any type of Subscriptions. Use it on competitors Sites. At internet lots of online tools and sites available like wpthemedetector , builtwith etc which do your work in seconds but its not works on all plugins and themes.
Many times we see unique functionality on our competitor WordPress sites but we don't know particular name of that plugin to use that functionality in our website. So here 3 – 4 methods which will detect & analysis whole data of entered URL & give you analysed report within some minutes.
Here is very simple method to Detect WordPress sites plugin & theme name online without install any software or any payment. Just you need URL address of WordPress then you are ready to get plugin name of sites.
Why We need Wp theme and plugin detector Tools ?
Before make any website firstly we checks our competitor site & their navigation to take one idea to make our own website. In WordPress we have to install theme to make our website fast if we prepare own full site code like competitor then we have to invest lots of time.
Don't have to wait & pay to know name of any website theme name & plugin. Once get name then search it on google to purchase or download free version from official source.
How WordPress theme detector and plugin detector Tools works ?
Just enter that site URL page to know WordPress is installed or not. Thinking how that site grab this data without their permission so we also shared algorithm how this tool sites works and search plugin and theme name from source code , URLS ?
Actually this sites works under their terms & conditions. They opened source code of that site in background & take the theme , plugin name & URL from that code. This sites already have very big database in which classes matches & shows you with correct details and human understand language.
---
Best tools to Check WordPress Installed Sites Plugin Name
1. Builtwith
Builtwith.com is best site to analysis any HTTP & HTTPS WordPress sites. Scan plugins , themes installed on wordpress websites. This is best because you will get lots of details of competitors on one place. Get solutions of this all questions from this site. Builtwith site detects
How to check webserver details, hosting provider name of any site.
How to check which name server is used for pointing any website.
Know SSL certificate , CMS , framework, advertisement details.
Which analytics tools is used by this site.
How to check WordPress theme , plugin name of any website using builtwith.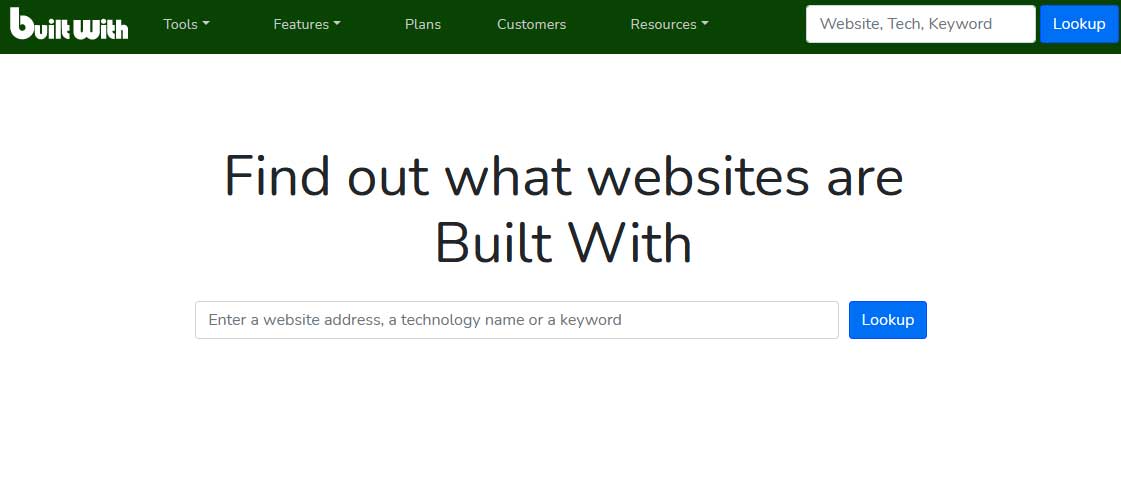 How to find out plugin & theme name of wordpress websites using builtwith
First of All, Visit Builtwith.com in pc or Mobile Phone browser.
You will see one Text box.
Enter Url without Http & Https Protocol.
Submit it >> You will see All the analysis report of entered Site url.
Analysis Report Contains :
Technology Profile : First option contains which analytics and tracking codes used in website like google analytics, cloudflare etc. Widget option contains which WordPress plugin installed on this website. Frameworks contains which wordpress theme and other framework details. Apart from this lots of things available on this option which contains each and everything about website details.
This is the my favorite and best method to search wordpress theme and plugin details when i sees anything new at time of browsing. Sometimes plugin and theme doesn't fetches so switch to next method if this happens.
2. Wpthemedetector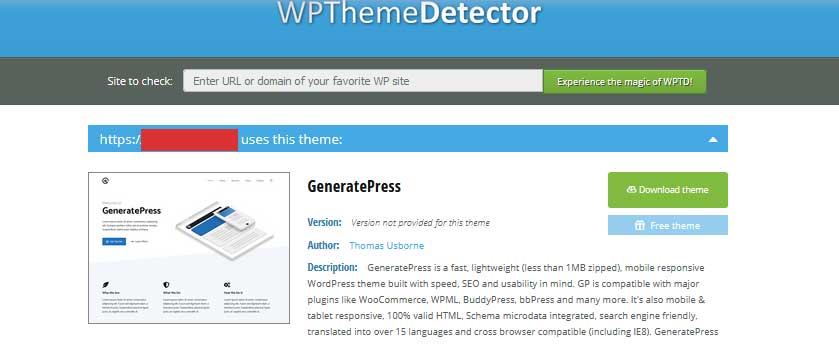 Wpthemedetector works with only WordPress installed sites to check plugin and theme name. Entered URL is not using this CMS then you will get error. In this way you can also check website installed WordPress or not which CMS. This site is very useful for WordPress developers because instantly get details of any website activated theme & plugin list. Here are the steps in order to check using this :
Visit WpthemeDetector.
Enter Site url in Text box.
Click on "Experience the magic of WPTD" Button or Simply hit enter.
You will See Loading Icon.
It will take Few seconds to grab Site Data.
Done ! You will get Theme name & activated Plugin Name.
3. WppluginChecker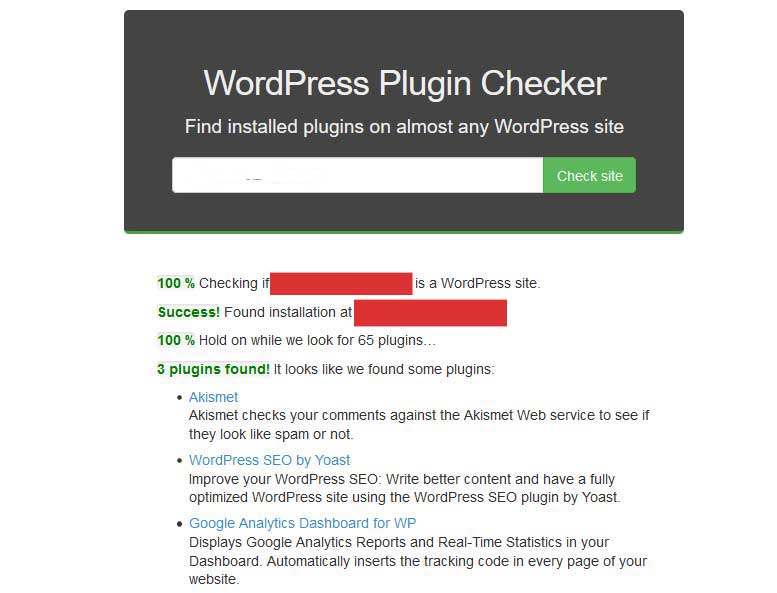 Another Wppluginchecker Site to Detect wordpress Sites Plugin & theme Name. If you will not get name of that particular Plugin name in above method then Check Using this Site because this Site Specially Made for only WordPress Plugin Detection.
---
Detect WordPress Site Plugin/theme Name from Source Code
We have one more method to detects manually without any site & tool but you can follow this method only in PC browser. This is Difficult and lengthy process and you need some expert knowledge but don't worry try it hard work never waste.
Use the method when every above methods fails search plugin and theme details of wordpress site.
Open that desired URL in PC firefox or chrome browser.
Right click anywhere & click on view page source.
It will open new tab where you will get that site code.
Find wordpress theme name
In head part you can find theme name which mostly quoted in comments line code.
If still didn't get then Press Ctrl+F on Browser to search in Code. Paste this line "wp-content/themes/" and hit enter. After Slash you will see Which theme name using wordpress site. Copy it and search on google.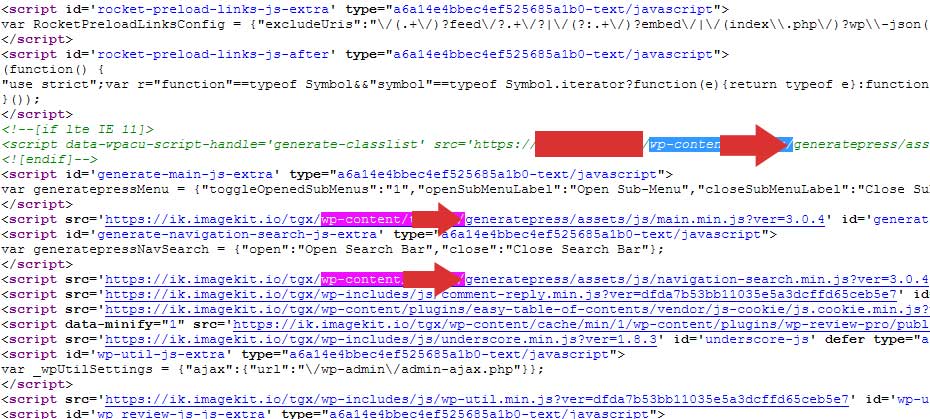 Find plugin name
Searching theme name of wordpress site is quite easy because 90% wordpress websites saves their theme under wordpress themes folder which you can easily detect using above method. We will use same method to find plugin name. Here is the Paste code :
Paste this "wp-content/plugins/" line to search all installed plugins on that page. If still not Success then Try to Change and search on other website pages Like Search on homepage, category page, posts, page, archives, tags, taxonomies.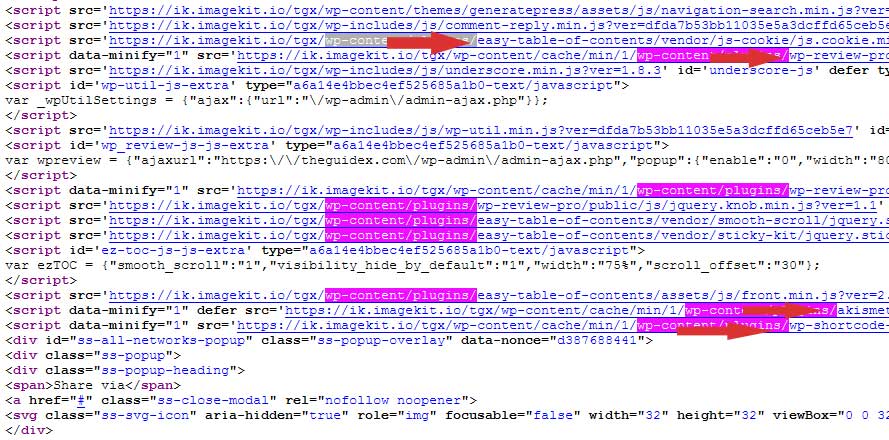 Explore Css Code
Some of the plugins still not comes in catch if they are not installed under plugins folder so at this time. Navigate to Mouse cursor to plugin design where you knows it is working here. Now Right click >> Inspect it. Here you will get Css classes. Some times contains name of plugin or search this css classes on google. You will Find out Plugin name in people queries.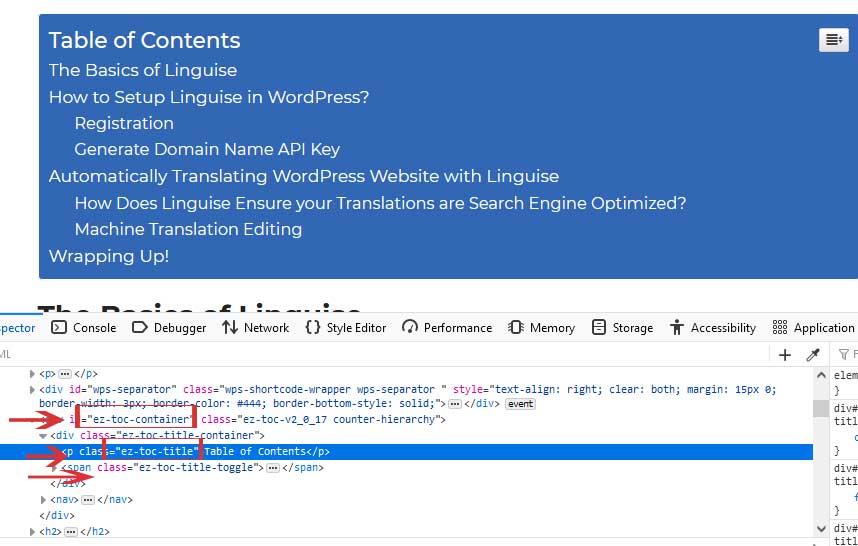 ---
Conclusion
So guys are you new on WordPress world then this methods will very useful to compete with your competitors. Freely grab any site data. For more Similar update and methods, Follow our Email Subscription or join telegram channel.
If article works for you then please share with your all developers friends so their problems will also solved without wasting time. Any other method which not posted here then please share it in comments sections , it will help to other peoples.