Maxvalue.media review – Today i will review one more ad network named maxvalue media. This is the best cpm ad network for publishers with minimum traffic requirements.
Publishers is now forgot google adsense because adx partners takes place. Maxvalue media is google certified ad network which have thousands of premium brands direct advertisements and adx.
Not a single inventory will be empty after using maxvalue ad network. They guarantee claim 25% minimum hike after changing from google adsense or other adx network. Or they will pay you gap revenue.
How i found this ad network ?
One day i seen "Ads by maxvalue" trademark below one advertisement. I clicked and visit their website. I impressed from their features and decided to try. Below is my experience on maxvalue media ad network.
Maxvalue.media review
Maxvalue.media review and my personal experience. Checkout this best cpm ad network benefits like high cpm, net-15 payout, guaranteed revenue increment.
Benefits
Here is the benefits and some is very unique which very little adx network provide this.
1. Header bidding
Maxvalue media ad network uses header bidding technology which fills inventory in real time. Demands which pays higher will win bid on inventory and that ads will show. So definitely ad revenue will hike.
2. Customer support
24 X 7 hours customer support available for publishers and separate account support manager. As my experience instantly replied my queries. Anyway you will not need customer support because login panel interface is very simple and all things can done from it.
3. Ad formats

Variety of ad formats available on maxvalue ad network. All popular digital ad formats like banners for mobile and desktop and in-stream, outstream video ads available. Along with sticky ads which offers by very little ad networks.
Let's talk about ads format :
1. Banner ads :
Banners ads available size : 300×250; 728×90; 160×600; 970×250; 300×600; 320×480; 480×60; 320×50. Almost all popular fixed size available. Your website is responsive then use responsive ad unit code which automatic change size and fits on any screen size.
2. Videos ads :
Adsense users still not able to earn from video ad units because not available. Using maxvalue media monetize with both in-stream and out-stream video units. The rpm of video units always high as compare to other ad units.
3. Sticky and Native ads :
Both ad formats plays very important role in revenue earnings. Sticky can be fixed at bottom of screen, Even user scroll bottom content it shows on bottom of screen. Another is native, Native looks like content ads. Place it between content and get huge clicks which will boost earnings with rocket speed.
4. Payment
Every 15 days your payment will be paid like earnings of August 2023 will paid on 15th September 2023. There is four types of payment methods available which paypal , crypto , wire transfer and payoneer. Good thing is only $25 minimum payout require.
5. Requirements
No much requirements require to get approval on maxvalue media ad network. Only 100k traffic per month. Your website traffic has more than 100k traffic per month then easily get approval.
How to get approval on maxvalue media ad network
Steps to apply and easily get approval from this ad network. You can start in just 2 minutes. No lengthy steps, only ads.txt update require.
1. They have separate panel for publishers where user can instantly register through email id. Below is button for visit direct registration page.
2. Enter email id and set password for account. Next verify email id.

3. Publisher account is successfully created and now you can add website for approval. Visit "Websites & zones" option after login in right side menu.
4. Click on "Add website" button. Select website category and enter url. Click on "Add now" button.

5. Instantly website url will be submitted and shows pending. Within 24 hours website will be shows approved and you will notified via email.
How to show Maxvalue ads on your website?
Once website approved on maxvalue media ad network which take approx 2 days. In my case only few hours and its depend on working days , queues etc.
First step after approve is update ads.txt file. Get ads.txt file code from menu Ads.txt and update it on website root folder. Don't have ads.txt then create new one and add this lines.
Next select website from website zones option and get ad code. Copy it and paste where you wants to show ads. Ads will start instantly but demands takes some weeks so wait till 3 weeks for proper hike in revenue. Because google adx also takes upto 2 weeks for approve website. You don't need to do anything your account manager will submit from their end.
Get payments
Under reports check your earnings which can take upto 24 hours for fully update. After $25 you can request for payments on your favorite payment method.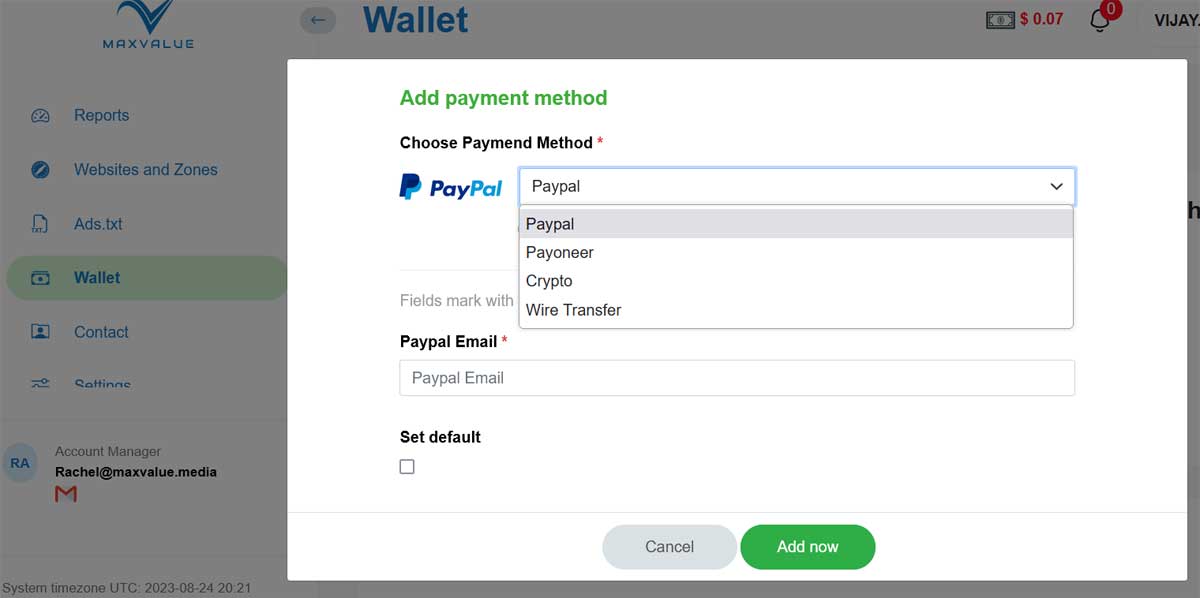 Before apply for payment, Add payment method. For this, Click on "Wallet" option from menu and then "Add". Choose payment method from list and enter all required details. Whenever wants payout add your payment order under "Recent payment orders".
Every 15th of month payment will be proceed if above $25.
Maxvalue.media contact
For any query like website approval, payments or anything. You can contact their customer support department or create query from account which is same as like mail to account manger. Account manager mail will show under last menu option or select "Contact" option from menu and create ticket.
Conclusion
Are you publisher and wants to monetize your website with best cpm ad network. Must try maxvalue media its very simple to deploy and ads started to show in seconds but high paid takes time.
So guys try this ad network and don't forget your experience to share in below comments section.