Are you finding best adsense alternative or wants to optimize adsense revenue then in both cases valueimpression will help you lot. In this article we will cover all the valueimpression related topics, Nothing will miss. Every doubts will be clear.
I am here giving valueimpression review on my personal experiences, This is my honest review and this is not sponsored by any company and here i also shared my own valueimpression case study with images.
This all things will help you to switching this network will good or not, How much CPM you will get on Valueimpression because this thing is very important on ad network.
What types of requirements for valueimpression approval ? Another frequently asked question answer which i also covered in this article.
The article is helpful even you banned by adsense and searching for premium ad network which can give equal or more than from adsense earnings.
Some days ago, I shared my honest adsterra review where i got $33 cpm rate on united states traffic. It also accepts worldwide traffic with two times payments in month.
Let's start the review of valueimpression, Step by step i will clear each and everything. Please read the article carefully till last, If you leaves in middle means you are losing huge revenue.
Valueimpression is the premium ad network for publishers to grow their ad revenue from 40% to 300%. With display banners they also have Outstream and In-stream video ad units which have very good cpm rates.
Majority of ads showing on Valueimpression by Google ad Manager/Ad exchange/Double click publishers or you can say that Adsense ads.
Valueimpression ads opens very smoothly and doesn't slow your website score because they uses lazy load technology which opens after page load.
It is a trusted ad network and thousands of publishers already using valueimpression on their websites, Even you can check the ads showing on lots of website by valueimpression tag below on ads.
They have more than 8 years of experience in advertising. They will optimize ads by their own AI scripts which fills 99% inventory with first highest bidding cpm ads to increase revenue.
This is the short introduction of valueimpression, Later we cover more points in this article but i think now i should start the questions answers.
Valueimpression review 2023 – CPM Rate, Vs Adsense, Requirements, Payments
Here is the cpm rate i got on valueimpression, What requirements i need for approval and how i got payments ?
What is the CPM rates on Valueimpression ad network ?
The cpm rates i got is different on different websites, The cpm rate on valueimpression is depend on from which country you are getting traffic. Similar like adsense, As i already told above in this article. Majority of traffic comes from google ads.
With adsense, They have more than 50+ premium ad networks so your inventory will never miss. I got more than 96% fill rate on inventory on all my websites.
There is clicks showing on reports, It gives E-cpm which counts impressions and on basis you will get earnings but if got more clicks then CPM will increases.
There header ad tag in-built with one video outstream ad which cpm rate is very good. Display banner also gives earnings equal to adsense but sometimes more if inventory header bidding win by high cpm.
MyCPM Rates
On Average CPM rate i got on valueimpression is between $1 to $3, Mostly between $1 to $2. You can see my 10 days earnings.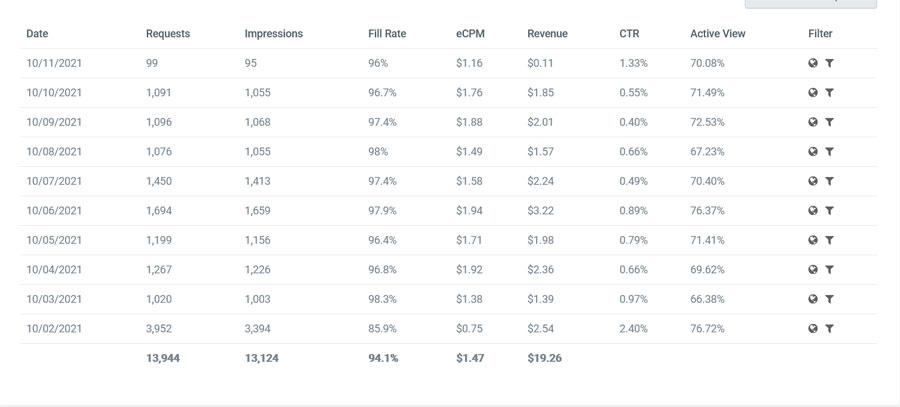 More ads you places on webpages will count more impressions and more cpm on valueimpression, As i told by my account manager and this is right.
Suppose you are getting 2000 page views and inserted 6 banners on a page then you will get approx. 10K to 12K impressions and if we counts $1.5 E-cpm then earnings will between $15 to $18 on Valueimpression.
Valueimpression vs Adsense
If you wants to optimize your ads or you are not happy with adsense earnings then you can start with valueimpression because with adsense you can show 50+ more premium ad networks on website So definitely earnings will be increased.
Adsense doesn't provide video ad units which has more cpm rate as compare to display banners but valueimpression puts one videos ads which cpm rate is amazing.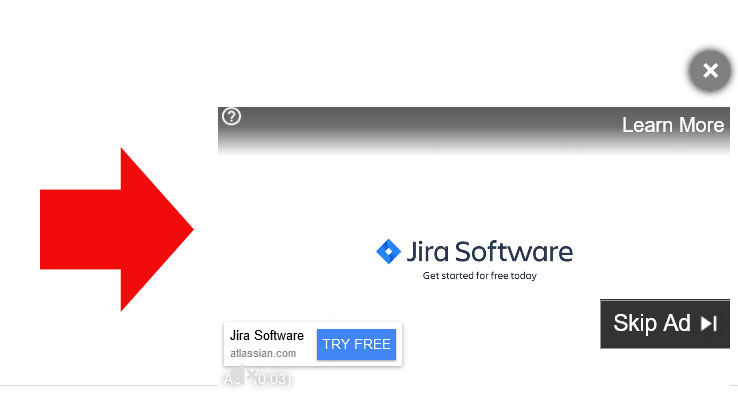 Adsense is based on CPC so more clicks then more page rpm and earnings but valueimpression doesn't depends on clicks. More impressions, more earnings.
Mostly valueimpression shows adsense ads on their ad tags so you will not lost adsense earnings. In plus high cpm ads so earnings will increases but it takes approx. 1 months to completely setup on your site.
If we compare the ad units on valueimpression and adsense then you will miss responsive ad units on valueimpression which is my favorite because it automatically shows best size and high in earnings.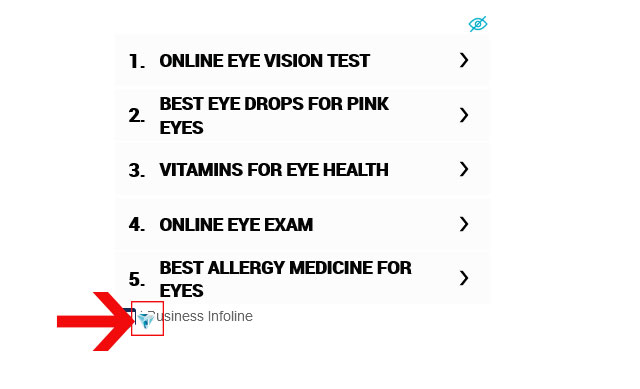 Automatic ads refresh in valueimpression which refresh ads automatically without refresh page in some time intervals which is not possible on adsense. This things also increases revenue.
Here is the table of adsense vs valueimpression comparisons
| | Valueimpression | Adsense |
| --- | --- | --- |
| Real time reports | Yes | Yes |
| CPM Based | Yes | No, CTR based |
| Payment holdings | 30 Days | 21 Days |
| Fees Deductions | No | No |
| Ad units | Display Banners + Video ad units | Display banners |
| Approval | Easy | Very difficult |
| Support | Personal account manager, Email support | Email support |
I need adsense or ad manager account to use valueimpression ?
No, It doesn't requires approved adsense account or google ad manager account. They will give you ads.txt file which you have to place in root of files. There ads.txt frequently changes so better to redirect on their ads.txt manager url.
I need adsense approved website to use valueimpression ?
If your website is not approved by adsense but you are come in valueimpression requirements then still you can use it.
They will review your website and approve your website from adsense from their ends, If any thing wrong or not complying with adsense policy then they will tell you to fix it. After your website will approved by google, it will show adsense ads and you will see boost in earnings.
Can i use it on adsense banned websites ?
Normally people doesn't switch when they have google adsense because its trustable but when they banned by adsense due to policy voilation. They started searching for new ad network.
Valueimpression is the best adsense alternative and you can use their ads even on adsense banned websites but adsense policy voilation must be fix otherwise they can't approve your website with google.
If google ads not showing through valueimpression then your earnings will be very low.
What requirements for valueimpressions
Approving website on valueimpression is very easy, Its not difficult task like adsense approval. There is no high requirements, Mostly they focus on website traffic.
Here is the list of requirements if your website follows it then you can easily get approval of valueimpresson.
More than monthly 1 lacs page views.
Site must follows adsense policy for adsense approval.
Doesn't contains Porn or gambling content.
Good interface
Mobile friendly
Content rich
If alexa rank is good then chances of approval also grows up. Even i got approval on websites which are new and no enough traffic so you can try it.
If you are not getting approval on valueimpression then contact on their email or your account manager email. They will tell you the problem, Fix it and notify the manager. They will help you in approval.
Payment methods
My Payment review
Payment methods is very flexible on valueimpressions and they pays on time. There is four types of payment methods available on valueimpression which is paypal, wire transfer, bitcoins and payoneer.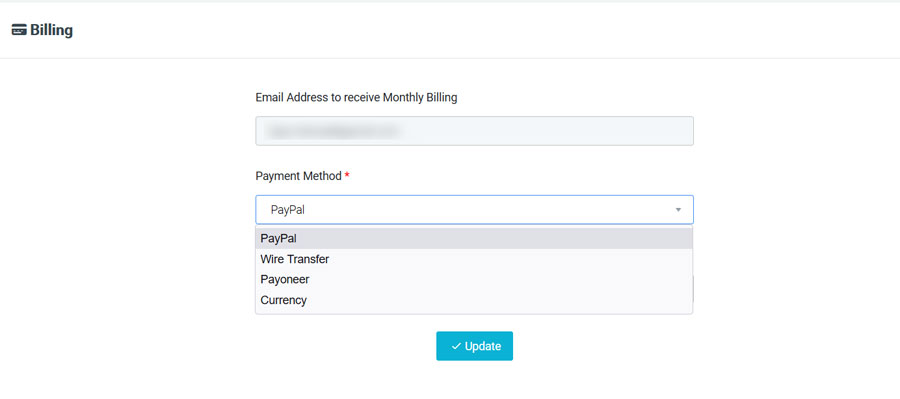 Minimum payout is different from every payment method. Here is the list
| Valueimpression Payment method | Minimum Payout |
| --- | --- |
| Paypal | $100 |
| Wire transfer | $1500 |
| Payoneer | $100 |
| Bitcoin | $100 |
If we talk about payment cycle then they hold the payment from one month then process between 1st to 5th or in some payment methods till 20th of the month.
Suppose you reached on minimum payout in August month earnings then payout will get in October month.
My honest review and case study on valueimpression
Here is my personal case study and review on valueimpression, This is my personal experience on using valueimpression. Not sharing here on behalf of other websites.
Personally tried it on 2-3 websites and then sharing the experience with you. I hope this will help you to go with valueimpression or not but still i recommends you. Try it once.
I am happy with adsense but one day i got mail from valueimpression to try there ad network. I talked on email they will give more revenue from adsense then they says yes.
So i sign up on there website, My website is already approved by adsense so direct ads can show but my mind was changed and i decided to try on my other websites which is not approved by adsense.
I said to my account manager, I added one more website in my account. Please approve it. They said, The traffic of my website is very low so demands will not approve it so they can't approve it. At that time i am getting around 700 pageviews on my site.
I convinced him and they approved my site. I placed ads.txt and inserted codes in my website. It shows some pre default images which given me nothing earning. Good thing is no effect on my website speed score because they uses lazy loads.
They processed my website to approve on google within 2-3 days but got some policy voilations like small text and not mentioned advertisements keywords above on valueimpression ads between content. I fixed this things and again told to my account manager.
After 1 day i can see Google adsense ads on my websites and i am earning as like adsense even more. In my career, I saw it for the first time any ad network paying more from adsense without showing irrelevant ads.
I am very happy but the problem of valueimpression tracking system came which counts only unique impressions only so i tried my one more website which was using adsense ads.
On adsense i am getting 38K impressions but only 17K impressions on valueimpressions by same ads placements so i talked with my account manager but he says we uses lazy loads on ads so only impressions which opens will count.
This is right, The ads takes some times to open so most of the impressions is not counting and i read on some websites they counts only unique impressions.
My account manager told me to put my adsense codes in their fall back codes so if inventory not filled by there ad network then my adsense ads will show and i will not lost revenue but i didn't try this.

My valueimpression review on payments
The company is reputed and trustable, They pays me on time. I used paypal method because my earnings is low and i got the payments on every 20th of the month. Below is my valueimpression payments proof of last 10 months.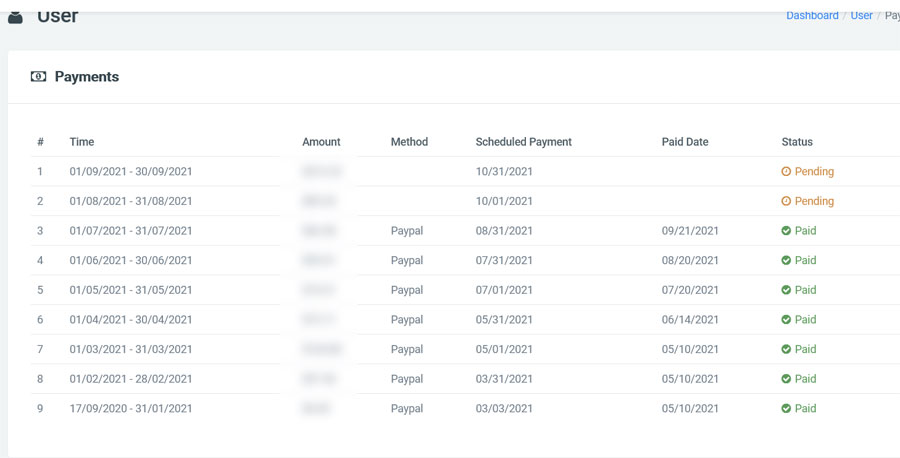 They pays me even i doesn't reach on minimum payout.
---
How to get valueimpression approval on website ?
First you need to visit Valueimpression website on your browser.
On homepage, You will see Sign up button. Click on it to register on valueimpression.
Fill all the details like first name, last name, email id and password. Now click on Register button
Complete the profile details.
Now you can access their full dashboard. Goto sites section and add your website.
Enter Domain, Select category and enter some notes about website or anything. Submit it.
It will show pending status.
Within some days if your website follows their guidelines and sufficient traffics then your website will be approved.
You will also notified via email.
After getting valueimpression approval, Below is the some steps which you need.
Put valueimpression ads on website
Now the next step is to update ads.txt file, Visit ads.txt manage option under dashboard option. Here you will get ads.txt file url. Open it and copy all the text and paste in your ads.txt file.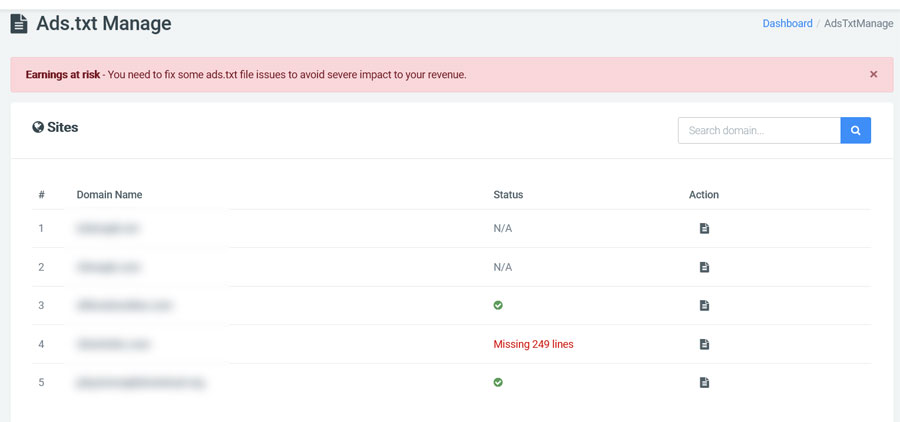 They frequently changes their advertiser in ads.txt so its better to redirect your ads.txt to their url using .htaccess method. Otherwise your earnings at risk warning will show.
Place ad tags
The next step comes to placing tags on website code, Visit Sites option from menu. Under action section, Select middle "<>" this button for manage tags. Make sure you are not using ad blocker on this page to avoid issues.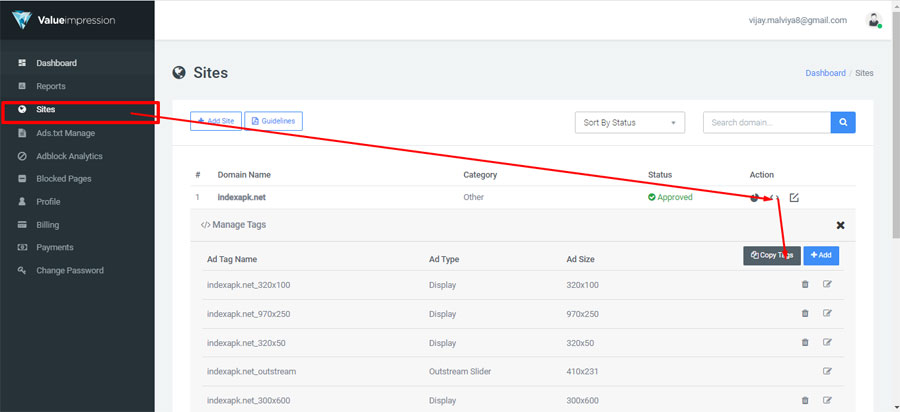 Copy the header script and place before </head> section. Without this script, Your ads will not run. Now place other display banners on website. The header script pre-installed with outstream video ads and bottom sticky ads if you wants to enable or disable then contact to account manager.
If the website is already approved by adsense then instantly ads will show otherwise wait till they approved for you.
Reports
Valueimpression reports are real time, No any wait like some ad networks. Reports will give you detailed information of ad requests, ad impressions, Fill rate, e-cpm, Revenue, CTR, Active view.
How to get Payments from valueimpression
Before 1st of the month, Update your payment method to receive next payment. Under billing option enter your payment details and update it. You will receive payments automatically after one month holdings.
Pro and Cons
Here is the some pros and cons of valueimpression in comparison with adsense which helps to take decision to go with it or not.
Pros of valueimpression
Personal account manager (Email support)
Video ad units
4 Payment methods
Low minimum payout
Easy approval
50+ Premium ad networks
Real time reports
Good cpm rates
No any effect on website speed score
Auto ads refresh
Valueimpression Cons
The major cons of valueimpression is, Sometimes doesn't fills inventory so their default images shows which effects on our ad revenue. Below is the image, Mostly it fills automatically on next ads refreshments.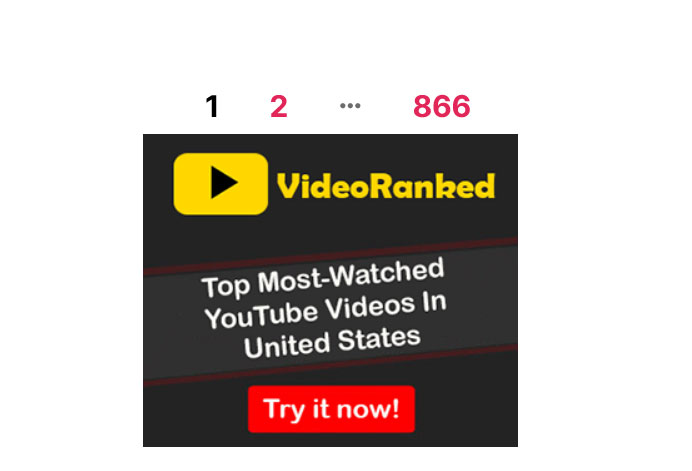 Sometimes counts only unique impressions
30 payment holdings
No responsive ad units
No detailed reports
Ads take time to load
Without google ads, CPM low
Conclusion
Above is the my honest valueimpression review which i experienced, I shared here. This all things are accurate and not copied from anywhere. Still I totally recommends valueimpression ad network because some users doesn't face unique impression problems so you should try it once.
If website is not approving then contact me via email [[email protected]], I will help you in approval.
If already using valueimpression and facing low impression counts problem then put your adsense codes in fallback option so you will not lost blank inventory revenue.
Now its your time to share review on valueimpression in below comments section like how much cpm you are getting, experience and revenue as compare to adsense.
This help you to other peoples who are searching best adsense alternatives and lossing revenues by not using valueimpression and trying other ad networks.
If anything i forgot to says about valueimpression then ask the question in below comment box, I will happy to help you.