Monetag review 2023 – Propellerads publisher is now monetag which is best adsense alternative. Check my monetag publishers review of 2023 with case study on monetag , cpm rate, payment proof and much more on my personal experience with monetag in this article.
This ad network is best for website doesn't comply with adsense policies. Because you will not get adsense approval or already approved then risk of ban. Another option which is Valueimpression & Optad360 but still not getting approval from this ad network then you should try monetag.
Process to getting approval on monetag is instant. There is no minimum traffic criteria or content. Also get approval even traffic is very low or getting major traffic not from search engines.
Note : The post is not sponsored. I am using monetag ads as publishers from last 12 months. On the basis here i am giving review on monetag ad network. Here i am also sharing proof of my earnings, payment proofs, cpm rate via screenshots.
Monetag created separate publishers platform named monetag. Everything same, some layout changed only so some pictures may be different.
I used push ad format mostly and here i can explain you should use monetag with adsense or not.
What is monetag ad network ?
Monetag is completely different from adsense. We can't compare with adsense because its a traffic driven ad network. Both advertiser and publisher option available so we can monetize our website as well as advertise ourself.
Multiple options available to earn money on monetag like push notifications, popunder ads, smart links, Interstitials & social bar. We can say that its similar like adsterra ad network but still some ad formats and cpm rate is different. If majority of traffic from USA then in some cases monetag bump adsense on cpm rate.
More than 8 years of experience in this field and more than 150 thousands publishers is already part of monetag ad network which brings billions of impressions every month.
Tip
One of great thing, It is completely safe with SEO. It doesn't hurt your seo work like some this type of ad networks direct effect on search traffic.
Your website developed on wordpress cms then putting monetag will more simple. Install official wordpress plugin and connect with account and manage ads direct from wordpress dashboard.
Another ads will not blocked by adblockers if you enable the option when creating ad units so use as fallback with other ad network.
Before going to further , We"ll discuss which ad formats or ad units available on monetag and which gives high cpm.
Which ad formats available on monetag and adsense safe

Total 6 type of ad formats available on monetag. Some can be usable with adsense without any problem but some of ad formats can ban adsense account. So using with adsense then don't use that ad formats.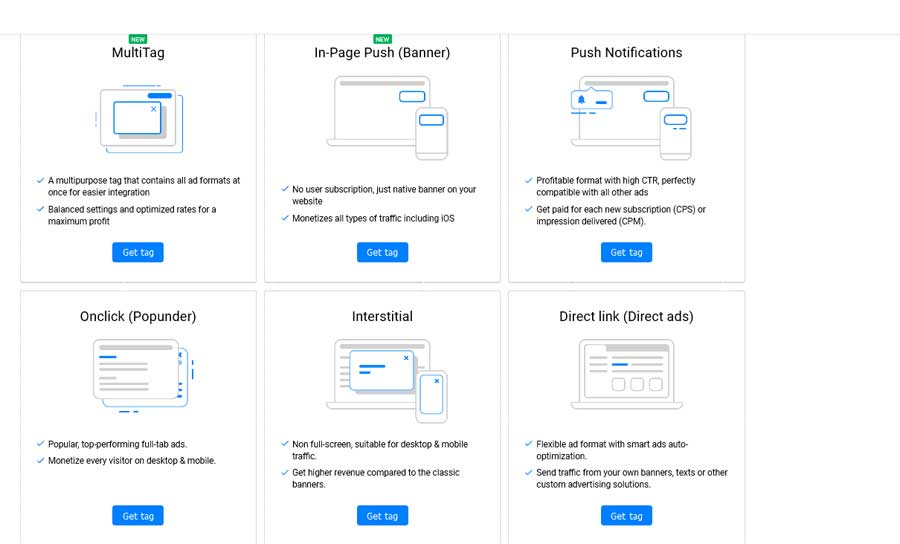 On monetag homepage, Its clearly mentioned there ads are completely safe with adsense but still its risky to use with popunders ads which cause accidental clicks.
1. Multitag ad format
All in one ad code requires place this ad code script. It's automatically optimize ads with best CTR and CPM. Don't wants to place ad codes manually then place multitag script. It will show all types of ads formats.
Multitag option is like adsense auto ad which automatically place best ad format on top performing placements. Automatically optimize the best ads and gives higher cpm rates.
Multitag ad format is safe with adsense
I will not recommend this ad format to use with adsense because it will show ONCLICK ads/Pop under ads which strictly prohibited by google.
2. Push notifications
Tried lots of website for monetize website using push notifications but only monetag given me higher cpm rates. Two options available under push monetization which is CPS (Cost per subscribe) & CPM (Cost per mile). People mostly uses cpm because more subscribers then more impressions so earn long time from CPM Subscription.
Monetag Push notifications safe with adsense
Monetizing push notifications with monetag is completely safe with adsense because its a different type of monetization, Even i am using with my some of websites.
Here is my screenshot of CPM rate which i getting on monetag push notifications. Majority of traffic on this website from United states.

3. Popunder & Interstitial (Safe with adsense or not)
Both the adformats gives high cpm from other ad formats because click through rate is more but not safe with adsense. Popunder opens pop windows on clicks and interstitial shows full page banners which overlays adsense ads and this is against adsense policy.
Even i will not recommend popunder ad format when majority of traffic comes from search engines. If traffic comes from other sources and adsense not using then must use that ad formats. You will earn huge money.
4. In-page push ad format
In-page push ad format of monetag is safe with adsense ads. Even doesn't hurt seo as well as user experience and can be easily closable.
Click through rate is also good on In-page push which load after page completely load. Also recommend to place the Ad unit in footer.
5. Direct link
Direct link can be monetize via any source and doesn't require website. Only direct traffic requires on link.
Create anchor tag and place it where gets more clicks. Use banner to attract more visitors, People uses "Download now" , "Click Here" like anchors and banners to get more clicks.
The direct link monetag ad format can be use with adsense ads because it is just a type of link.
Which monetag adunits safe with adsense ?
Above i explained all the ad formats which available on monetag and how it works ?
Note : Monetag says their every ad format is safe with adsense but I says not every only some. After Ban adsense account monetag will not come to unblock it so please read this article carefully if using both ad networks together.
Yes its right using this both ad networks together can increase revenue because ad formats is completely different. Still recommends don't wants to risk with adsense then don't try monetag because sometimes it shows erotic ads as well malware ads which force users to install software.
This will make user experience bad as well as dropping in traffic. But if have decided to use monetag and don't wants to ban from adsense then don't use Popunder onclick ads & interstitial ad formats. This overlay and cause accidental clicks.
Push notifications, Direct link ads & In-page push is completely safe with adsense. Use that monetag ad formats with adsense to increase revenue and fill empty inventory.
Using only monetag then multitag is the best ad format for monetization which automatically optimize and gives high revenue. Only placing one ad script will monetize full website.
Monetag payment methods
There is four types of payment methods available on monetag for publishers and only $5 minimum payout requires to reach threshold. Also they pays weekly, monthly or manual select payment period from settings.
Receive payments on Paypal, Skrill, Payoneer and Webmoney. Monetag payment is very flexible and on-time as my personal experience. Set minimum payout manually if wants to hold.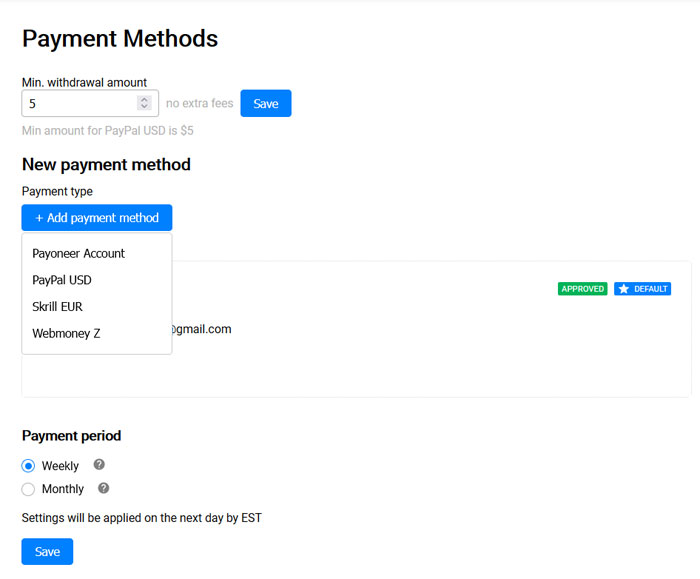 Payment period is weekly then earnings of first week can be redeem on next week. For one week earnings will be on hold and show in total balance. After hold period it will be transfer to payout balance and withdraw automatically every week.
Payment proof
Here is my monetag payment proof and selected weekly payments. Paid every time on time. There is no issue with payments. If facing any problem then ask with your account manager.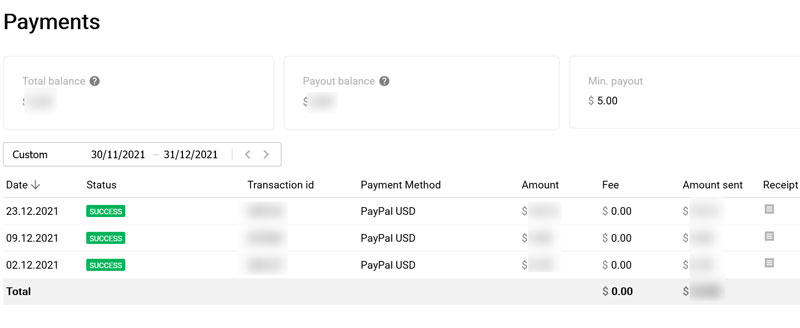 Below is the screenshots of paypal account where monetag sent me payments.

I think every thinks clear about monetag now. Join without any problem by below steps where shared complete steps to get started with monetag publisher account.
How to monetize website on monetag with high cpm rate ?
Its too much easy, Start monetization in just 5 minutes on monetag . Don't need wait for approval like other ad networks. There is no minimum traffic require and can monetize brand new website also.
Create publisher account on monetag then here is the steps :
How to register publisher account on monetag ?
1. On registering new account first open browser and click on below link.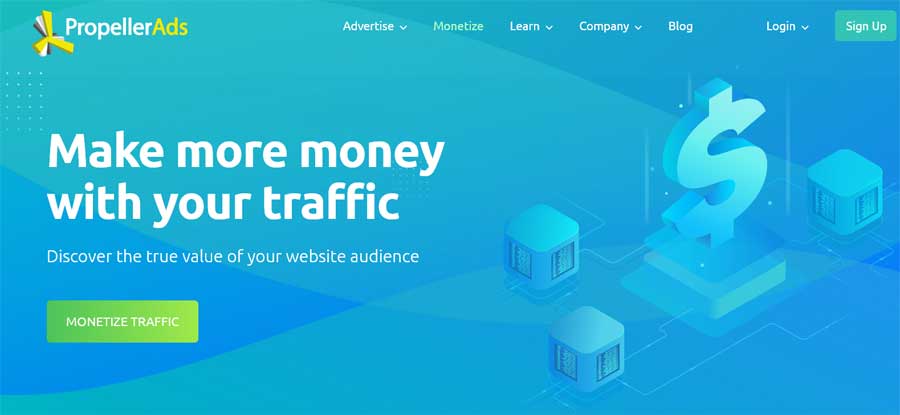 2. Monetag homepage will open. Click on "Monetize Traffic" Button will open sign up form on screen. Select account type, first name, last name, country, city, address, email , phone number. You can leave ID verification but later required for withdraw payments.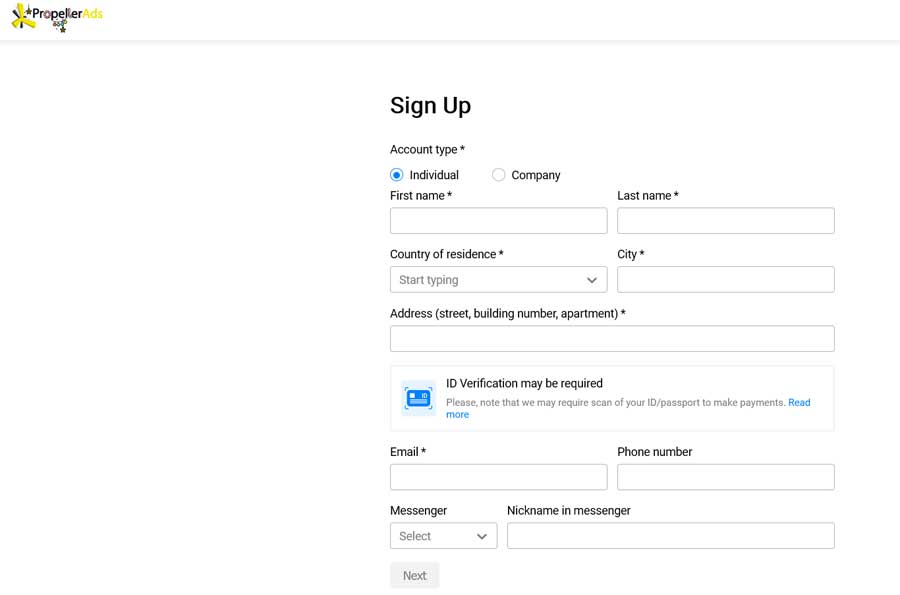 3. Click on "Next" Button will open another form where fill details about your website like which affiliates you are using, which ad formats planning to use etc. Fill the form and accept terms >> Click on "Sign up" Button. You will receive verification email to activate account.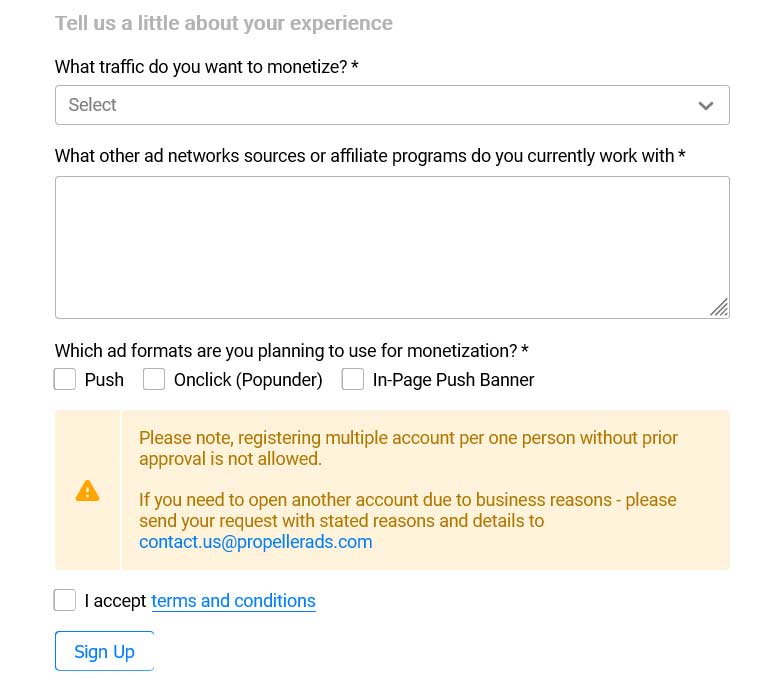 4. Click on "Verify account" button will redirect to setup password for account. Once complete, you are on monetag publisher dashboard. Publisher account is successfully created. Now you have to add website.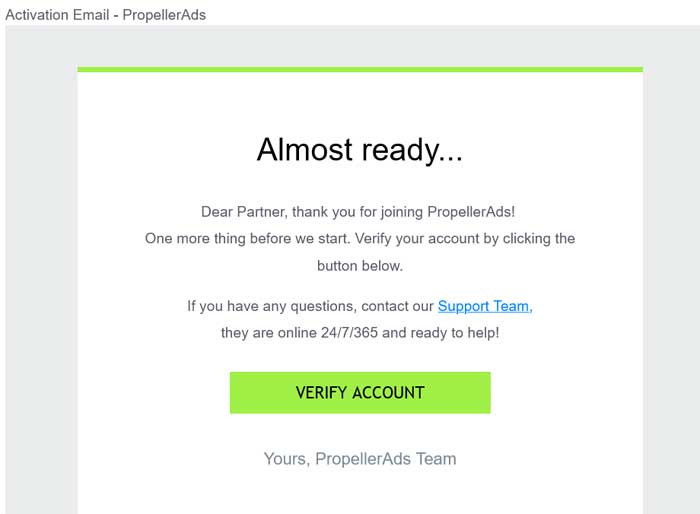 How to approve website ?
1. Click on "Sites" option from left menu >> Add site >> Enter website url and verify using any method like enter meta tag in header or upload monetag verification file in root.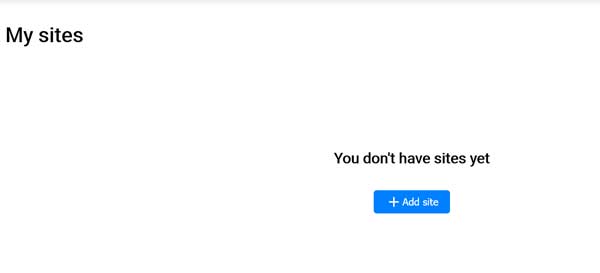 2. Click on "Verify" button will add website instantly in account. By similar steps add all websites to account.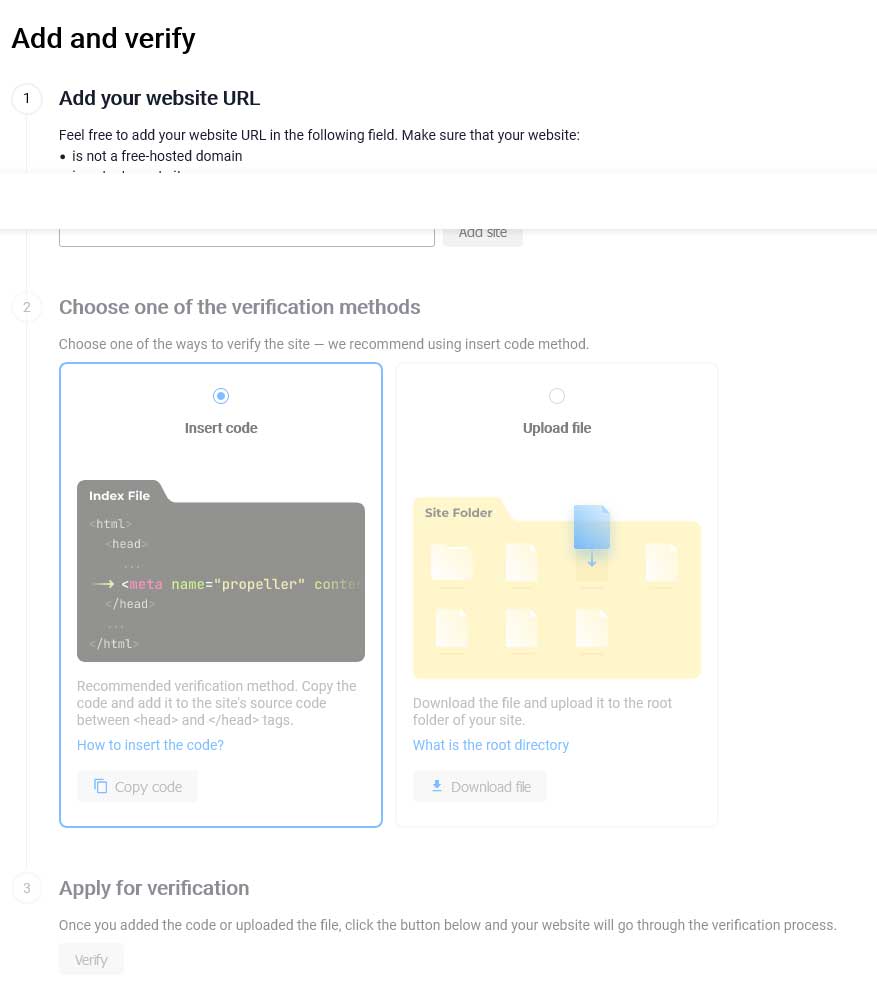 How to create ad units on monetag ?
Click on "Sites" >> Select added website will show all created ad zones. On starting it shows empty. Click on "Add zone" button from right side and select ad format. Give any name and select option "Monetize with ad blocking software" which Increase ad revenue by 25% with Anti-Adblock solution. Your ads will not blocked by ad blockers.
Click on "Get tag" button will instantly generate javascript code. Place where you wants to show monetag ads.

Instantly ads will started to show where placed it. I recommend to place multitag because it will show all type of ad formats and automatically optimize best ads.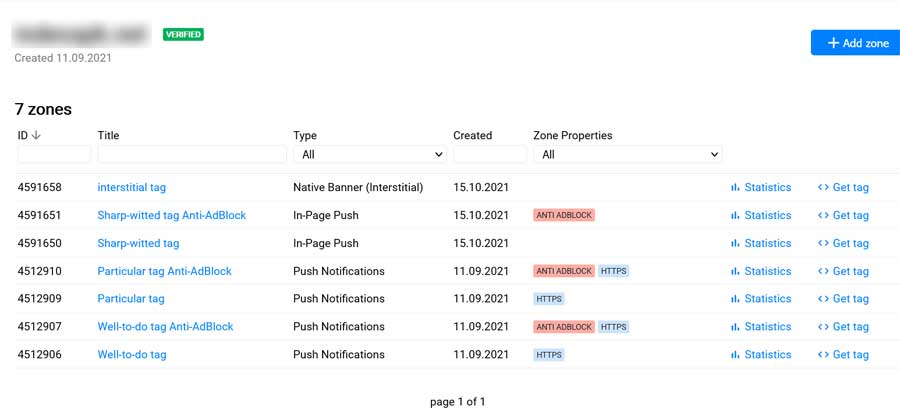 If the website is on wordpress then install the plugin and connect it. Your created ad zones will show on plugin dashboard and without coding place monetag on wordpress website.
How to earn money on monetag without website ?
Monetization on monetag are not limited to website owners. Don't have website then still earn huge money. There is two options which is Direct link & Referral program.
Website owners can also use this options to increase their revenue.
1. Direct link
Already explained direct link ad format above. Don't need website to use this. Simply create direct link and share on  social accounts or where can get clicks on this links.
When somebody click on this link, You will earn money.
2. Monetag Referral program
Monetag referral program give opportunity to earn money without doing anything by just referring friends on monetag. Earn flat 5% earnings lifetime.
After login create own monetag referral link and give to your friends. Your friends must use referral link on creating account. That's it earn flat 5% commission of referrals earnings without doing anything. It doesn't matter how they are earnings.
Suppose one friend earns $100 per day on monetag. You will earn $5 in your account. You will earn lifetime from referrals.
Final words
This is monetag review on my personal experience. Not earning as much from monetag then try a-ads which shows crypto banners and gives upto $6 cpm. Use a-ads with monetag to increase overall revenue.
Even some people says a-ads is better than adsense because daily withdrawals, no minimum payout and high cpm banners. You should look at once.
Sufficient cpm rate is not getting on monetag then try to change layout of website, niche, traffic sources because this also matters huge on cpm rate.
Push notification ad format review
Not happy with monetag then still don't remove push notification ad format because i tried lots of push monetization network but no one pays equal to monetag . You can use with adsense also.
Still have any question then enter in below comments section and don't forget to share with your friends. This ad network is best if you have any downloading website.