Here is the steps to get ubersuggest free trial in 2023 without credit card, Ubersuggest is the free & paid keyword research tool are coming with 7 days free trial without any payment and can be cancel anytime. There is a lifetime trick to get tool at $40 for lifetime.
Normally ubersuggest is free keyword ideas tool which doesn't need even sign up for analyzing keywords but data will show limited like limited keyword suggestions, historical trends and backlinks some of them can remove by sign up free account.
Ubersuggest premium account will remove this all restriction and all the features will unlock. After activate paid plan of ubersuggest, Tons of seo tools can be use fully.
Using ubersuggest keyword research tool with rankerx free trial can boost your website traffic in very very small time because both is automation seo tools, You have to invest only few times and few clicks on it.
Keyword research is the best way to ranking on 1st position at Google and other search engines but finding low competition keywords with high traffic is not a easy work because other peoples also doing the same work but ubersuggest free trial makes very easy.
What is ubersuggest ?
Before going to claim ubersuggest free trial, Know about how its works and what is use of ubersuggest keyword ideas tool. I already told you how keyword researching is important in SEO to get rankings on first page.
It doesn't mean backlinks doesn't require, Still if you creates some high da pa directory submissions , Profile creation & web 2.0 backlinks then no one can stop to achieve top positions.
On entering keywords, You can check their competitions like how its difficult to get rank on google ?, Total monthly search volume with last 12 months historical data, Keywords CPC, trends etc. Easy to filter keywords and find exact one according to your requirements.
Apart from this keyword suggestions which related to your entered keyword with this all details so if you are not sure then take low competition keyword from this list with good traffic and use in title tags, description and content so you can easy to rank that keyword.
Below is the comparison table of ubersuggest premium plans.
Plan Details
(Individual Plan)

Managing 1-3 websites

(Business)

Managing 4-7 websites

(Enterprise / Agency)

Managing 8+ websites

Pricing
$12 USD/month
$20 USD/month
$40 USD/month
Reports Per Day
100
300
900
Projects
3
7
15
Chrome Extension Search Limits
100
300
900

Tracked Keywords
Update Frequency
Mobile Rank Tracking
Numbers of locations
Data reporting

100 Per Project
Daily
Yes
20
Yes

150 Per Project
Daily
Yes
Unlimited
Yes

200 Per Project
Daily
Yes
Unlimited
Yes

Pages crawled per report
Crawling Frequency

Historical Data
Keyword Suggestions
Content Ideas
Data exporting report
Filtering

Yes
20,000
2000
2000 Rows
Yes

Yes
50,000
5000
5000 Rows
Yes

Yes
100,000
10000
10000 Rows
Yes

Similar Websites
Tracked Competitors
Historical Data Top
Pages Top Keywords
Data exporting report
Filtering

20
5
Yes
2000
20000
2000
Yes

20
10
Yes
5000
50000
5000
Yes

20
15
Yes
10000
100000
10000
Yes

Link history
Backlinks rows
New and lost links
Data exporting report
Filtering

3 years
2000
30 Days
2000 Rows
Yes

3 years
5000
30 Days
5000 Rows
Yes

3 years
10000
30 Days
10000 Rows
Yes
7 days free Ubersuggest trial is available on all 3 plans and there is no payment requires or credit card details require. Subscribe using paypal also and cancel it anytime before trial expires.
Ubersuggest free vs paid keyword research tool
Most of the users don't know is ubersuggest premium is available because when you opens this keyword research tool then it doesn't require sign up or force to buy premium. You"ll get daily free 3 search queries limit with limited results but under paid version search queries and results limitation will be removed.
Tip
Don't wants to go with ubersuggest free trial or premium account and using free version then sign up free account which only requires email verification and shows upto 25 keyword ideas with Keyword difficulty, Search volume, Paid difficulty & CPC.
Is ubersuggest accurate ?
Many peoples asks is ubersuggest gives accurate analysis, So my answer is no one keyword research tool can give accurate details even ahrefs or semrush because they are third party but there estimation is completely accurate.
You've seen estimation is different from tool to tool then which one is good tool, Actually all the premium tool is best for keyword research but there algorithm is different to count some shows high and some shows average of the same keyword. Lets take example :
Ahrefs showing 60 difficulty and ubersuggest shows 50 then other keyword suggestions will also show according to this results. If ahrefs shows 10 difficulty more than ubersuggest then it"ll show more on other keywords also so results is same.
How to get ubersuggest free trial for 7 days ?
Let's come to the steps to get free trial without credit card using paypal method for 7 days. There is no payment requires for 7 days and easy to cancel.
1. First of visit Ubersuggest free trial page
2. Select any plan, According to your use. On all plans free trial is available. Click on "Start my free trial" button.
3. Sign up free account and login to ubersuggest account.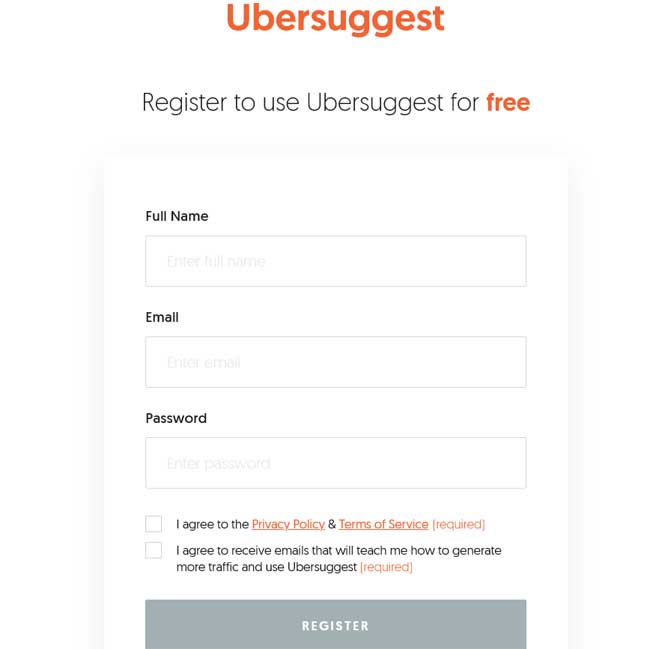 4. In pop up, It will ask for payment method, Here you can "Buy now with paypal" or enter credit card details.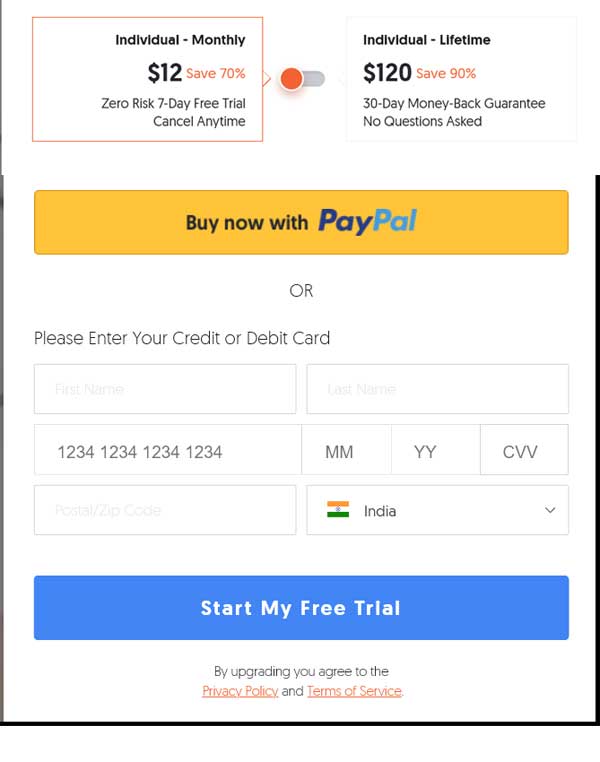 5. It will redirect to paypal subscription page , Complete the subscription by login to paypal account.
6. That's it, Your ubersuggest free trial is successfully activated, You will not charged till 7 days.
How to cancel ubersuggest premium free trial subscription ?
After 7 days, If you don't want to continue premium features of ubersuggest then you can cancel the subscription in few clicks without any problem.
You can cancel ubersuggest free trial subscription via two ways :
Recommend way : Login to paypal account >> Settings >> Payments >> Manage automatic payments and cancel the ubersuggest subscription.
Another way is login ubersuggest account and cancel from it.
Ubersuggest lifetime trick at only $40
Following this steps lifetime ubersuggest premium subscription can avail at just $40 only. The ubersuggest premium trick based on vpn method.
1. Create new account using latin american email. Search on google for this.
2. Use any VPN and connect using Latin American countries Chile, Argentina or Mexico server.
3. Visit the website and purchase any cheapest plan. Any payment method can use.
4. Open profile >> accounts >> payments and cancel ubersuggest premium subscription. Select reason as price and then fill the text form in Spanish preferably.
5. Now lifetime access pop up will shows. Accept the offer and make payment. Enjoy ubersuggest premium access for lifetime.
Final words
Ubersuggest free trial is enough to research low competition keywords with high traffic for 1 or 2 months article posting. You can save the list of keywords in free trial and later make articles on it.
Don't know how does ubersuggest works ? Then check the free version which comes with limitations but good to know how its works ?.
With ubersuggest keyword ideas ,You should also submit on high da social bookmarking sites which increases your domain rating and authority both. In some days, You can get good traffic from search engines.
I hope you like this article and share it with your friends, Please tell your opinion about this seo tool in below comments section.