Manually not possible to check content is plagiarism free or not. Plagiarism checker requires number of times if you are digital marketer. Here we compare Duplichecker vs Smallseotools for plagiarism checker with features and accuracy. Which Free plagiarism checker is best.
Both Duplichecker and Smallseotools are popular free plagiarism checker. Used by millions of peoples to check content is unique or not. Mostly when you are submitting on directory submission sites and content for other backlinks.
What is plagiarism checker ?
Plagiarism checker is a tool to check content is unique or not. It checks the content over internet and shows how much similarity found. Also shows matched source content links.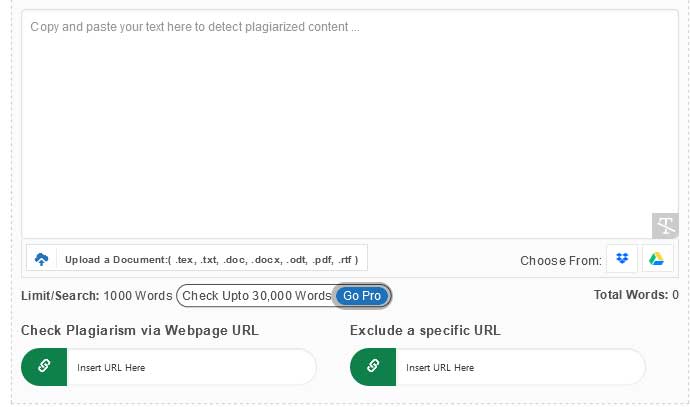 Check plagiarism content manually using google or other search engines is very time taking task. Even not possible when we have huge content. This tools makes our work simple and in some seconds match the content on million of websites.
Over internet both free and paid plagiarism checker tool is available. Paid tools has some more benefits like no-ads, fast and more accuracy. It doesn't mean free tool doesn't do anything. Tools like Smallseotools and Duplichecker works as like paid with minimum restrictions.
Uses of Plagiarism Checker tool
There is lots of uses of Plagiarism Checker tool for digital marketing, website owners, bloggers, seo optimization etc. Mostly uses in guest posting. Website owners before approve any post on their website, They first check content is copyright free.
So before submit guest post or content for backlink, Must check content is Plagiarism free. Making backlinks via Plagiarism free content gives more benefits. Here is high da web 2.0 sites list, Submit unique content with backlink and boost ranking.
Duplichecker vs Smallseotools
Duplichecker vs Smallseotools free Plagiarism Checker tool comparison. Which passed Plagiarism free content ranks better on google.
| Comparison | Smallseotool | Duplichecker |
| --- | --- | --- |
| Words Limit | 1000 words per search | 1000 Words per search |
| Check Plagiarism via Webpage URL | Yes | Yes |
| Speed per 100 words check | 8 Seconds | 4 Seconds |
| Pro Plans | Starts from $9.80 | Starts from $10 |
| WordPress Plugin [Pro] | Yes | No |
| Plagiarism Checker API [Pro] | Yes | Yes |
| Text file upload support | Yes | Yes |
| Cloud Upload like Google Drive | Yes | No |
| Supports Multiple languages | Yes | Yes |
| Accuracy | 99% | 70% |
If we talk about features the smallseotools clearly wins because of advance options like api and wordpress plugin. Also under pro plan lots of other tools like grammer checker comes.
Smallseotools takes more time to check Plagiarism content as compare to duplichecker in free version.
Plagiarism Accuracy [Case study]
I will check Duplichecker or Smallseotools which one is more accurate. Same random content checked by both tools, Which one shows more Plagiarism.
Let's come to the example :
I taken 125 words from my own article which already indexed on google. It means the whole content is Plagiarism so it shows 100%.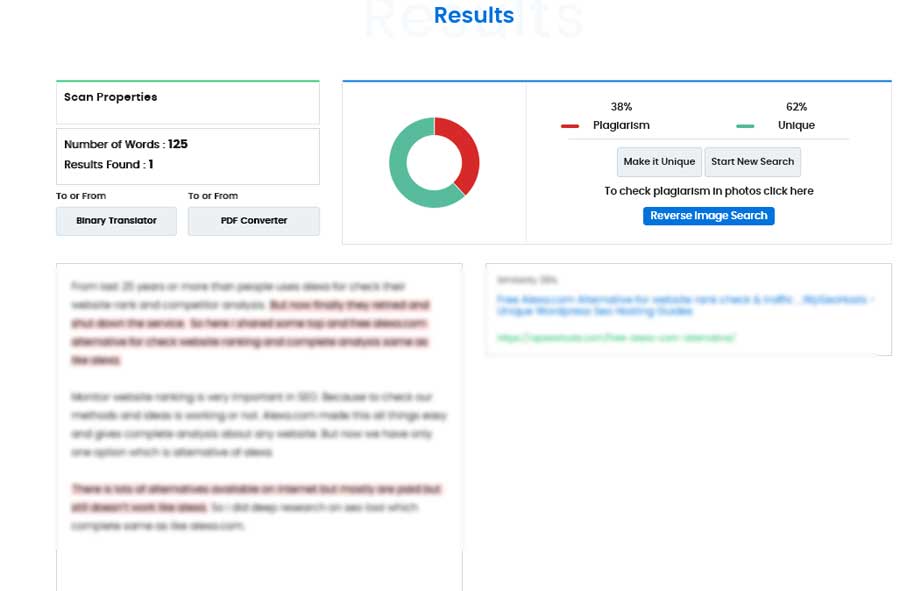 Duplichecker shows the content 38% Plagiarism and 62% unique. Also it shows matched source content url of my website.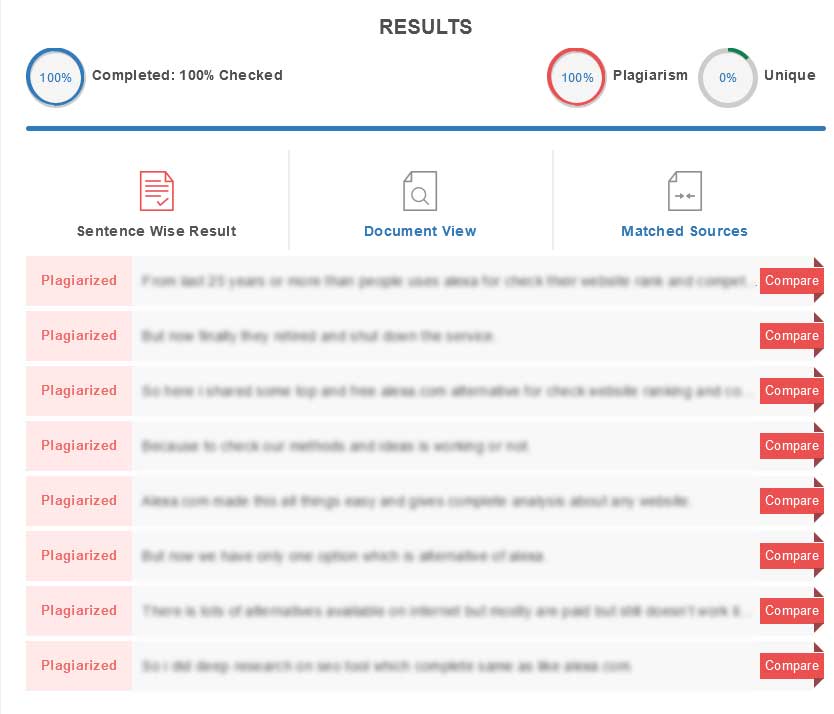 Smallseotools shows the content 100% Plagiarism and 0% unique. It also shows matched source content url where i copied the paragraph.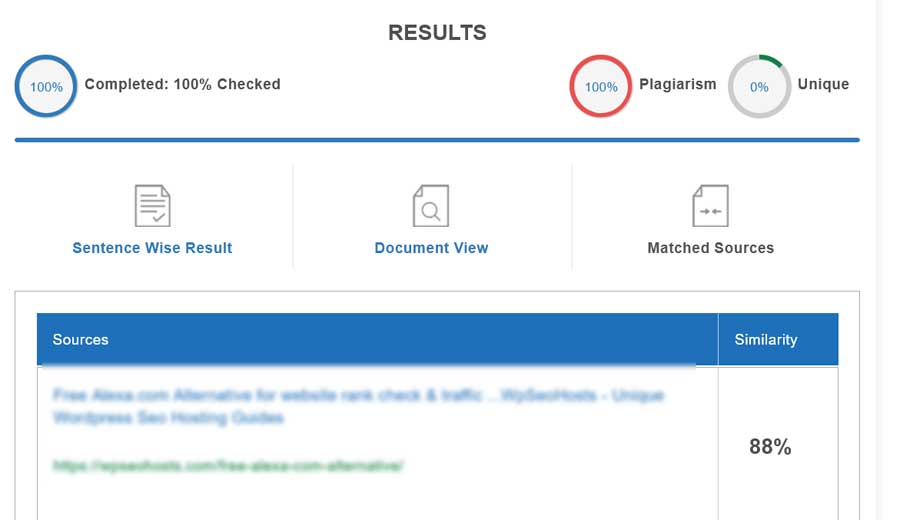 Clearly Free Smallseotools Plagiarism checker wins in all conditions. Only loss in time taking performance so its common because they checks content on more website for more accurate results.
Which passed content ranks on google
Now the question comes which plagiarism passed content better ranks on google, Duplichecker or smallseotools. The answer is more unique content ranks better on google.
Its clear from above example, Smallseotools has better accuracy to check plagiarism content as compare to duplichecker. So the content passed by smallseotools ranks better on google and other search engines.
Note : Doesn't mean 100% unique content will guarantee ranks on google. Search engines like google have own algorithm to rank. Thousands of factors sees google to rank a website. Unique content is one of the factor.
You should monitor website ranking regularly to check your moves working or not. For multiple websites check bulk similarweb rank checker.
Conclusion
This is the complete Duplichecker vs Smallseotools comparison. I think i covered all the major points. According to case study and other features. Smallseotools win and better accuracy as compare to duplichecker.
So i recommend to use smallseotools to check plagiarism free content. If you have any other free plagiarism checker which is best then please share in below comments section.